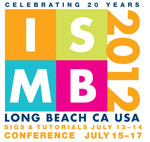 The explosion of genomic data over the past decade, accelerated by the widespread adoption of next-generation sequencing, has been matched by a proliferation of software tools to analyze, visualize, and manage it. This wealth of individual tools calls for environments to support their interoperation along with multi-tool analytic workflows, transfer of data between tools, recording of analytic provenance, and facilitation of reproducible research. These features are crucial to address the heightened demand for accessibility and reproducibility now being placed on genomic researchers and data production centers.
This SIG will explore approaches to interoperable bioinformatics software. It will include presentations on a number of well-established bioinformatics interoperability environments and demonstrate how they can support the research of bench biologists. Computational biologists and software tool developers will learn the scope of each initiative and how they can participate, as well as best practices for software interoperability. End-users will have the opportunity to provide input to interoperability projects on what capabilities are most important to them.
Date
Friday, July 13, 8:30 a.m. – 6:30 p.m.
Sessions
Please check this site for updates to the schedule as the meeting date approaches.
Panel discussion between invited speakers. Topics will include upcoming issues and challenges in interoperability and how to engage the user and tool developer communities in greater adoption of resources for interoperability. Users of these tools will be encouraged to share their experiences and feedback.
Presentations on interoperability environments
Hackathons. This is an opportunity for tool developers to quickly add their software to one of the interoperability environments, e.g. as a Galaxy tool, GenePattern module, Cytoscape plug-in, Taverna service or GenomeSpace-enabled tool. The developers of several participating interoperability environments will facilitate these intensive sessions.
More Information
Please contact bsi-sig-2012@broadinstitute.org